Let's Rebuild the Gulf Coast just as we built these WPA Projects
Libraries
Rundel Memorial Library, NY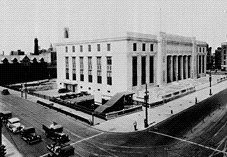 High Schools
McIntire High School,
Charlottesville, VA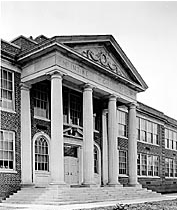 Hospitals
Kings' County Hospital, Brooklyn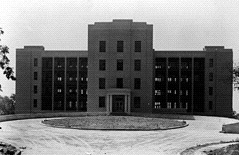 Join a national commemoration
of the 2nd Anniversary of Hurricane Katrina!
| | | | |
| --- | --- | --- | --- |
| Organize or join a local event at a WPA location in your neighborhood | Spread the Word - Invite your friends to a National Commemoration | Make a contribution to support the Gulf Coast Civic Works Project | Help us reach our goal of 100,000 Americans to sign our petition |
8 Cities Registered -- Make Yours the Next One!
Boulder, CO • Chicago • Fullerton, CA • Geneva, NY • Lincoln, Illinois • New Orleans • San Diego • San Jose
Event Details >>>
ABC 7 Coverage [watch]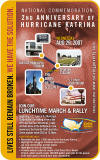 Download
Katrina Facts
Download CA Flyer
During the week of August 29 to September 2, the Gulf Coast Civic Works Project is calling upon communities and colleges across the country to observe the 2nd Anniversary of Katrina by gathering for commemorative events at Work Progress Administration (WPA) and Civilian Conservation Corps (CCC) projects in our local communities.
During the Great Depression, eight million WPA workers and three million CCC workers built or repaired 800 state parks, 2,500 hospitals, 6,000 schools, and 13,000 playgrounds. Most likely, a public work project is very near you.

Civic Work is not a Democratic
or Republican solution,
it's an American Solution


Click to Download
San Jose Flyer
Map of San Jose Event
Press Release






What kind of event can you hold?
Keep it Simple and Fun!


"Pools for the Gulf" Swim Party
at a WPA Pool
(Find a Pool near you: Click Here)


Picture of high school children and young people at the swimming pool built by the WPA in Carbon Hill, AL.

"

Rounds

of Golf for Rebuilding"
Find a WPA golf course in your community and hold your event there (Click Here)


Aerial view of the 18-hole golf course in City Park, New Orleans, LA. Constructed by WPA as part of the vast City Park Improvement program.



"WPA Post Office Murals"
Gather at a Post Office - While there mail a letter to Congress!

(Find a Mural near you: Click Here)



Why Gather at Public Work Projects?

By gathering at public work projects, we will remind the nation on the 2nd Anniversary of Katrina that there is an effective solution for the problems of the Gulf Coast. The Gulf Coast still needs to rebuild homes, schools, hospitals, roads, bridges, parks, and forest lands. This is exactly what our public work projects have historically built.

What Will We Do At Our 2nd Anniversary Events?

On August 29 to September 2, we will gather at public work projects around the country :

to remember the over 1,800 who died in Hurricane Katrina ( e.g., a religious leader can speak about the loss of life),

to highlight the struggles of Katrina survivors in our own communities and the nation (e.g., a Katrina survivor might speak about the suffering and difficulties they have faced),

to highlight the lack of rebuilding (e.g., local residents who have visited the Gulf on a volunteer project could speak),

to promote federal legislation to create a Gulf Coast Civic Works Project (e.g., someone can speak on what 100,000 public work jobs could do for rebuilding the physical structures of the Gulf and allowing our displaced citizens to return home).

Why Join the National Commemoration?

Nearly two years ago, Hurricane Katrina, aided by the construction of a substandard levee protection system, killed over 1,800 people, damaged 200,000 homes, and destroyed schools, hospitals, roads, bridges, parks, and forest lands. The government's response to one of the largest disasters in the nation's history has been ineffective and weak, and is a collective stain on the heart and soul of our nation. Of the 148,000 Louisianans who have applied for aid to rebuild their homes, only 30,000 have received grants, 86,000 Gulf Coast families are still living in FEMA trailers, and 750,000 residents remain displaced.

During the week of August 29 to September 2, we will say to the nation that there is a solution to the problem, which is for Congress to enact the Gulf Coast Civic Works Project.

Who Should Join your National Commemoration?
Students, Katrina Survivors, Church Group Volunteers who have gone to the Gulf, Elders who were part of WPA project. If possible honor Survivors, Volunteers and Elders.